Lab Testing
(Last Updated 07/2/20)
Testing Requirements
Testing Requirements are set by the Oregon Health Authority's (OHA's) administrative rules and can be found on their page. It is important to know and understand these requirements to avoid transferring or selling untested product to retailers and consumers. From time to time, OHA publishes Informational Bulletins relating to specific testing topics.
As of January 1st, 2019 Test results no longer expire
The latest Sampling and Testing Guide also covers specific guidelines regarding pulling and submitting samples for testing.
As of February 1st, 2020 all test results recorded on or after 2/1/2020 must also have the Certificate of Analysis (COA) uploaded with the test results. Except those outlined in Compliance Bulletin CE2021-03: Testing.
Subcontracting
Labs may subcontract testing in accordance with Oregon Administrative Rules. When subcontracting tests in Metrc the subcontracting lab enters the results for the lab test that they were subcontracted for. However, it is the role of the primary lab to record the final results and upload the COA into Metrc.
Final Product Testing
Products are required to be tested for the full range of compliance tests, for sale to consumer, in the final state that it is going to be sold to a consumer. For example, you have 2 separate, fully tested cannabis oils and blend them together. You cannot consider the blended oil as a tested product, it will need to be tested once the two oils are blended together. This is an important clarification so that licensees can save themselves duplicative testing during processing. As a further example, lets say you have your blended oils in bulk, and now you are wanting to put it into vape pens, cartridges, etc. Do each of those pens, cartridges, etc. need to be tested? The short answer is no, the testing can occur at the bulk level and then divided up into the pens and cartridges as long as no added substances or further processing occurs between the bulk oil, and the placing it in the delivery mechanism.
This topic was discussed on Episode 3 of the In The Weeds Podcast, produced by OLCC.
Control Studies
As of December 2016, the OHA provided an optional control study process for Marijuana Processors. If the control study passes, it allows for fewer tests conducted on process lots. Note that control studies are only for homogeneity testing, ensuring that THC, residual solvents, and pesticides are homogenously distributed throughout the process lot rather than "clumped" in greater concentrations in some portions of the lot. A control study alone does not satisfy state mandated testing requirements and all products, even those testing under a control study must still be tested for their required compliance tests.
More information on the control study process can be found in the Sampling and Testing Guide or on The Oregon Health Authority's Website.
Verifying Results
It is very important that both the sender and receiver of packages in Metrc take the time to confirm the test status and test results input into the CTS on a package before the package is sent and received. Failure to do so could result in a potential violation notification email being generated and sent to both the sender and receiver of the product. Please note that a TestPassed Status just indicates that all tests that have been conducted have passed, it does not indicate that all required compliance tests for that marijuana item.
To confirm the test results follow these easy steps:
First find the manifest in your "Licensed Transfers" Section. Using the black triangle on the far left, you can drill down into the manifest to view the stops on that manifest. Using the black triangle next to the facility on manifest you can then drill down to view the packages going to that facility:

Using the black triangle next to the facility you can then view the lab results tab on that package and view the individual tests that have been completed on that product. In this case, the package is missing several tests and requires more testing before being sent and received by the retailer: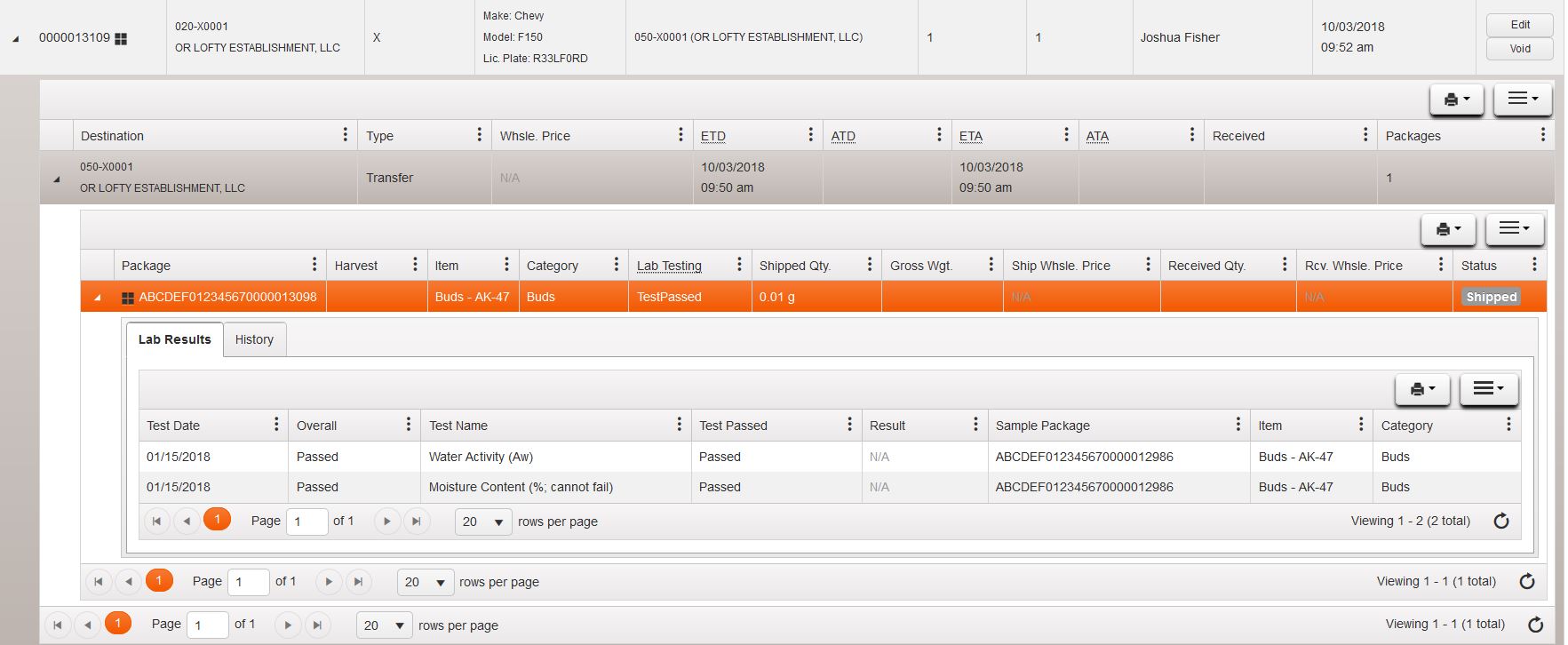 Failed Test Guidance
Reanalysis
Growers and processors who request testing on a marijuana item and receive a failed result may request a reanalysis of the sample from the same laboratory within seven days of being notified of the failure. If a request for reanalysis is made, the grower or processor must notify the OMMP of the request on the Notification of Reanalysis or Retesting of a Failed Sample form (pdf). A copy of the reanalysis results must also be submitted to OMMP once received from the testing laboratory.
If the reanalysis results in another fail, all associated batches must be held for destruction.
If the reanalysis results in a pass, then another laboratory must resample and retest the item to determine if the product is a pass or a fail.
Retesting
Recreational
To notify the OLCC follow these instructions:
Email marijuana@oregon.gov
Use the subject line: "Request for Reanalysis"
Include the following information:
Your license number and facility name (as they appear in Metrc)
The Metrc package tag ID of the sample package being reanalyzed
The lab doing the reanalysis
Date of request for reanalysis
Test(s) requested for reanalysis
Medical
The grower or processor must notify OMMP that they are pursuing a retest. The same Notification of Reanalysis or Retesting of a Failed Sample Form (pdf) may be used. A copy of the retesting results must also be submitted to OMMP once received from the testing laboratory.
A Fail on a retest means the item must be held for destruction.
A pass on a retest means the item may be transferred.
If a batch fails testing, it may not be destroyed without first obtaining permission from OMMP.
The form and copy of the test results may be sent to: ommp.labs@state.or.us.
Unexpected Results
There have been instances when Licensees have reached out seeking guidance on "unexpected" test results, i.e. for formulated items that have an expected potency level that comes in with a wild variance to "normal" results. Unfortunately, there is no remedy for this in rule. Once compliance testing has been completed, no repeat lab tests can be done on the same batch (with the exception of failed, remediated product). The Best Practice advice for licensees is to remain consistent with the lab utilized for testing to ensure that uniform procedures are followed for every batch. If a licensee feels that there is an egregious error, they could have the product "R&D" tested and try to work with the Oregon Health Authority to build a case for rule changes, but at this time, there is no recourse to amending a test due to undesired results therefore there is no Metrc remedy for this situation.
Reporting Lab Issues
Trouble seeing this form? You can load it in a new window https://forms.office.com/g/zxW3zzHC1E.
Wiki Feedback
If you encounter a technical problem or just want to provide general comments regarding your visit to the Oregon Metrc Wiki, we welcome your Feedback.