Training and Resources
A resource for Metrc training and other resources (Last Updated 10/14/2020)
How To Videos
Metrc has a series of how to videos on YouTube.
Sign up for Metrc Training
Users that need to sign up for their first time training or users that wish to take a refresher course on the Metrc training may sign up for training on Metrc's website or by using the link found in the support drop down tab in Metrc (see image below). Please note that you must sign up for training 48 hours before the listed start time of the training. You will need your OLCC Facility License number in order to sign up for the training.
Metrc Support Provided Resources
Metrc Support has also created an Oregon State Supplemental Guide covering many topics. You will need to be logged in to Metrc in order to use the direct link, otherwise you will be taken to the Metrc login screen and can navigate to the guide using the link from the support drop down menu: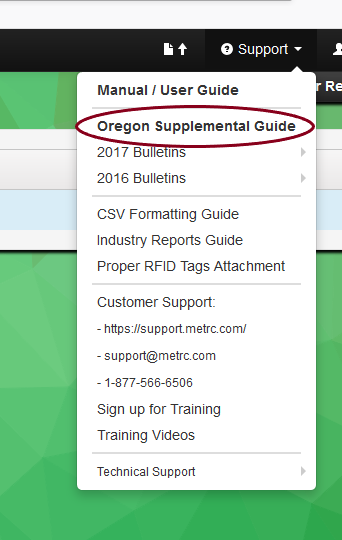 OLCC Metrc Resources
The OLCC's Item Categorization Guide
OLCC Sampling and Testing Guide
List of valid integrated API providers
Processor and Retailer Inventory Transfer Guide
Producer Start-up Inventory Transfer Guide
Complete list of OLCC Compliance Bulletins
Medical Marijuana Metrc Resources
List of OMMP Tracking and Reporting Resources
Wiki Feedback
If you encounter a technical problem or just want to provide general comments regarding your visit to the Oregon Metrc Wiki, we welcome your Feedback.